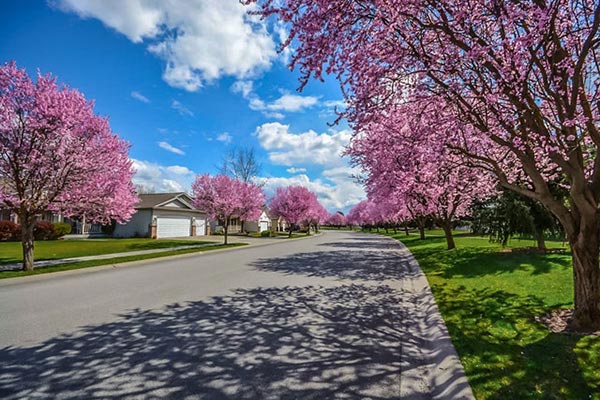 Although most financial advisers will tell you that a 30-year mortgage is a bad deal and that you're paying an unnecessary amount of interest, it is still the most popular choice of mortgage term among U.S. homebuyers, and for good reason. While the repayment period is obviously longer, monthly payments are lower, and because the rate is fixed (at least for most 30-year mortgages), you can rest assured that the monthly payments will stay the same throughout the duration of the loan.
Below are a few more reasons why a 30-year mortgage might be the smarter choice for you.
1. Lower Monthly Payments, with a Catch
As mentioned earlier, a 30-year loan term lets you make relatively affordable monthly payments to your mortgage at a fixed rate (i.e. the payments will stay the same). But, it's also important to note that when compared to a 15-year term, the total cost of a 30-year loan will be significantly higher because of interest. But there's a way to get around this: if you can pay off more than the minimum amount on your monthly payments, you can pay off your balance faster and avoid the interest. BUT, that only works if you actually have the discipline to pay more than what you're required to pay.
2. Your Home's Value is Insulated Against Your Mortgage
Many people buy a home because they want something that increases in value over time. Of course, there's no really way of telling if your home will appreciate or depreciate in value. But, be that as it may, this value fluctuation will happen with or without your mortgage. In other words, your home's value is unaffected if you get a 30-year mortgage, which, in turn, means you can build equity as your home value grows.
3. More Value for Money
And by value, we mean more house. Assume for a moment that you can realistically afford $2,500 in monthly loan payments. With a 15-year mortgage, you can buy a house worth $450,000 (excluding taxes and closing costs, of course). But with a 30-year mortgage, you could be looking at a house that's not only double in value, but is much larger and probably in a better neighborhood.
4. Easier Qualification Requirements
The lower monthly payments on a 30-year mortgage usually mean it's easier to qualify for a home loan. There's less risk for lenders and a higher likelihood for borrowers to be able to make payments.
5. A Mortgage Gets Easier Over Time
The great thing about fixed-rate mortgages is that the monthly loan payments become easier to pay with time. Remember, your payment of $2,500 today will not change 20 years from now. By then, there's a good chance your income will have increased and that your home will have grown substantially in value. In other words, your monthly payments may soon become insignificant next to what you're pulling in, both in home equity and income.
If you need more advice to figure out the best mortgage program for your needs, mortgage advisor Chris Lamm can you walk you through the entire home loan application process. Get in touch today by calling our office at 530-282-1166 to schedule a consultation.
Questions? Contact Chris Today!